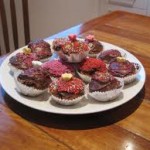 Flapjacks.
Plain, apricot or chocolate chip
£4.00 for 16
Large Cookies.
White chocolate and cranberry, choc chip, Anzac.
£4.00 for 16
Welsh Cakes
Why not snack on our local treat? Little drop scones filled with raisins.
£2.50 for 10
Rocky Road squares.
Chocolate, crushed ginger and digestive biscuits, glace cherries, cranberries, mini marshmallows and syrup – definitely not a low calorie treat, but still delicious!
£4.00 for 16
Cupcakes.
Jo's speciality!
Light flavoured sponge topped with mascarpone frosting. Jo offers a wide range of flavours, including:
Vanilla "99" – Vanilla sponge with vanilla frosting topped with a chocolate flake
Eton mess – Vanilla sponge with raspberries topped with meringue and marshmallow white chocolate frosting
Cherry Bakewell – Almond sponge with glace cherries topped with almond frosting and a cherry.
Cappuccino – Coffee flavoured sponge topped with white chocolate and vanilla frosting
Peppermint – Peppermint and choc chip sponge topped with peppermint frosting and a mint chocolate.
Bara Brith – (A Welsh fruit cake) Cinnamon and raisin sponge topped with "Earl Grey" Frosting. A must try!
£10 per dozen
Muffins.
Jam Doughnut Muffins – Light vanilla sponge filled with raspberry jam and topped with butter and sugar.
Jaffa Cake Muffins – Chocolate sponge filled with orange curd, topped with chocolate and orange frosting.
Lemon doughnut – Lemon sponge filled with Lemon curd, topped with butter and sugar.
£8 per dozen