Sports Massage at The House
If you are planning a stay that includes some arduous physical activity, you could take a quiet moment to unwind, relax, have any injuries assessed or treated, improve your competitive edge or just spoil yourself.
We have teamed up with some local therapists who can either visit the house or arrange to see you at their local clinics. Leaflets and contact numbers are all at the house.
Normally, patients visit Mike's clinic in Cardiff on a Friday, but if enough notice is given (or in an emergency) Mike is happy to visit you at Ty Skyline House at the weekend for treatments.
See Mike's website by clicking on the banner below:
Osteopathy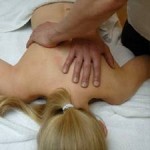 However, if you are a serious athlete and/or have sustained a worrying sporting injury, we recommend a trip to Cardiff to see one of the UK's most accomplished sports-specific Osteopaths, OSTEO RELIEF in Cardiff. Emergency appointments considered, call 02920 911040.
Brian John Smith
Brian is a locally based massage therapist offering both Swedish massage and Sport massage.  He is based in a clinic in Cimla, only 10 miles from Glycorrwg.
Of course you might prefer the added convenience of a visit to your holiday home at The Ty Skyline House and this might also be possible.
To book with Brian – or just find out more follow this link
Other Therapies
The nearest chiropractor is in Port Talbot and there is an osteopath near Treorchy, but we cannot recommend them as we have no knowledge or experience of them.